LISTEN NOW!
"

MAR, calm and strength. MAR, the wind and the breeze. MAR, transparency and immensity. MAR, the magic that the wave brings with it. MAR, a unique woman with her explosive cultural heritage is ready to leave her own mark in the music world."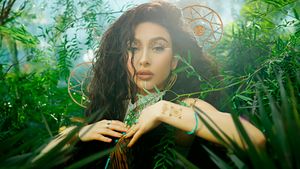 MAR, the powerful wave that entered the mainland to stay.
MAR was born in the United States but her Latin blood and warmth run strong through the veins of the young singer-songwriter. Mexican from her father and Cuban from her mother. She grew up in a home full of love for the artistic, she began developing her skills by taking piano lessons from the age of six and then focusing on vocals. Steps that led her to her great passion: composition. In addition to her passion for singing and music, MAR has also worked in the modeling world since she was 13 years old, participating in countless fashion shows in Los Angeles, New York and Mexico.
Her first performance as an artist on stage took place in 2013, in Anaheim, California, a key event to reaffirm her vocation. Between 2014 and 2020, MAR participated in a hundred concerts and international tours throughout the American continent as part of her father's, the beloved Mexican singer-songwriter and Latin music legend Marco Antonio Solís, show. Stepping on stages like New York's Madison Square Garden; Luna Park in Buenos Aires; the Quinta Vergara in Viña del Mar; the Movistar Arena in Santiago de Chile; the Arena Monterrey and the Foro Sol in Mexico City.
After many years of preparation, experimenting with rhythms, lyrics and musical styles, MAR is ready to break into the world of music THIS 2022 with her solo release that promises to be successful and authentic.
Her first record production is in the pop-urban genre and "QUÉDATE" is the first song of her authorship that will be released on June 10, 2022. 
A song that will shock the audience and leave no one indifferent due to its powerful melody, MAR's explosive voice and the burning rhythm that accompanies it, without neglecting the suggestive lyrics that narrate the daily experience of meeting someone with great magnetism and such a powerful personality that you cannot resist wanting to spend more time by his side.